Journey through Namibia's most loved hotels and lodges
Hover over for more info
Welcome to O&L Leisure Hotels & Lodges. Owned by the Ohlthaver & List Group, which was founded in 1919. O&L Leisure Hotels & Lodges is a proudly Namibian hospitality company. O&L Leisure is committed to offering our guests a unique, genuine sense-of-place experience. It's our warm, down-to-earth nature and love for our country that turns staying at our resorts into an unparalleled experience.
We are dedicated to developing passionate team members to host all our visitors as if they were their own guests and to constantly enhance their skills and knowledge in the Hotel industry. O&L Leisure Hotels and Lodges are the owners and managers of The Strand Hotel Swakopmund, Mokuti Etosha, Midgard and Chobe Water Villas.
We are dedicated to developing further opportunities in line with our total commitment to the Hospitality industry in Namibia. We hope you enjoy your stay at one of Namibia's Most Loved Hotels & Lodges.
Latest News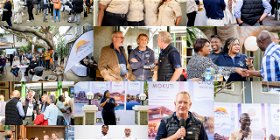 O&L Leisure takes center stage
Last week Friday O&L Leisure hosted a stakeholder-centric engagement session at their head office within the Kaiserkrone courtyard. This event was enjoyed by representatives from the government, state-owned enterprises, corporate entities, travel agents and tour operators.
The event was aimed at fostering interaction, dialogue and networking while conveying the message of O&L Leisure's commitment to unique and diverse experiences, world-class products and services and overall excellence.
In the words of our Executive Chairman and acting MD of O&L Leisure, Sven Thieme: "Travelers have changed. They seek much more authentic, sustainable experiences and value, value for money. We believe that O&L needs to be contributing to Namibia being a premium destination worldwide, not only a mainstream destination and we need to do this sustainably. We believe this is the right route to go."